Transportation
Hong Kong's newest and largest exhibition venue, AsiaWorld-Expo (AWE), adjoining Hong Kong International Airport, is easily accessible by all means of transport.


Arriving by Air
Arriving by Land
Shuttle Bus

*Airport Express/MTR
*Public Bus
Taxi
*Private Car
Please click here for more information on new and enhanced transportation links to AsiaWorld-Expo.
www.asiaworld-expo.com/en-us/visiting/getting-here/directions/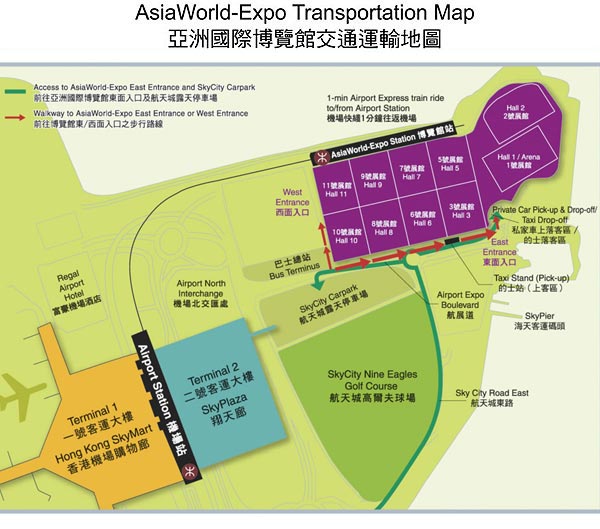 Arriving by Air
Passengers arriving by air can take the 1-min Airport Express ride from Airport Station to AsiaWorld-Expo Station.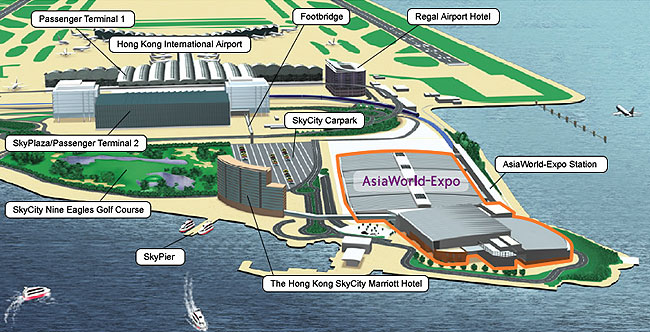 Courtesy of AsiaWorld-Expo Management Limited
Passengers arriving at level 5 (Arrival Hall), leaving the immigration and baggage claim areas walk straight ahead through the Greeting Hall and go up to level 6 (Departure Level) to board the Airport Express train to AWE. It takes around 1 minute from Airport Station to AWE Station.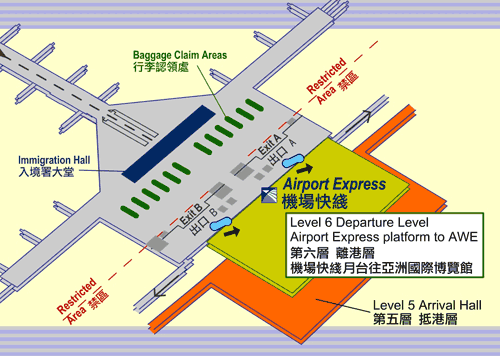 For detailed information about Airport Express' service, timetable, tickets and fares, please visit 
MTR Corporation's website
.
Information will be coming soon.


AsiaWorld-Expo Station on the Airport Express Line provides convenient access to all train services on the MTR network.


MTR Map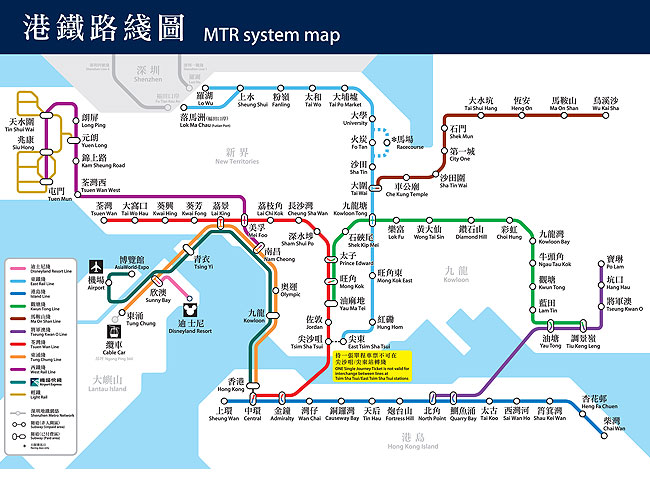 Holders of valid event proof are entitled to redeem round-trip Airport Express tickets between AsiaWorld-Expo Station and Hong Kong Station or Kowloon Station at just HK$60 with an Octopus card. For details, please click 
HERE
.
*Public Bus
1. AWE to/ from Hong Kong Island, Kowloon and New Territories
Various buses run between AWE and Hong Kong Island, Kowloon and New Territories. For detailed information about bus service, timetable, ticket and fares, please visit 
Citybus Limited's website
 or 
Long Win Bus Co Ltd 's website
.
AsiaWorld-Expo is served by both Urban (red) and Lantau (blue) taxis. Taxi passengers can be dropped off at the venue's East Entrance. (Please note that New Territories (green) taxi cannot access AsiaWorld-Expo)
Taxi Stand - When leaving AsiaWorld-Expo, visitors can take taxis at the Taxi Stan located near the East Entrance.


*Private Car
Ample parking space is available at the SkyCity Carpark (near to the West Entrance of AsiaWorld-Expo) for private cars and motor cycles. Parking rate is offered at HK$18 per parking hour or HK$90 for prepaid day-park (for period from 8:00am to 8:00pm) or 24-hour parking is $144.


*
Terms and conditions apply. For the detailed arrangement and schedules, please refer to the official website of AsiaWorld-Expo (
www.asiaworld-expo.com
), under the Special Transportation Services section of individual Event Details page at Event Calendar.